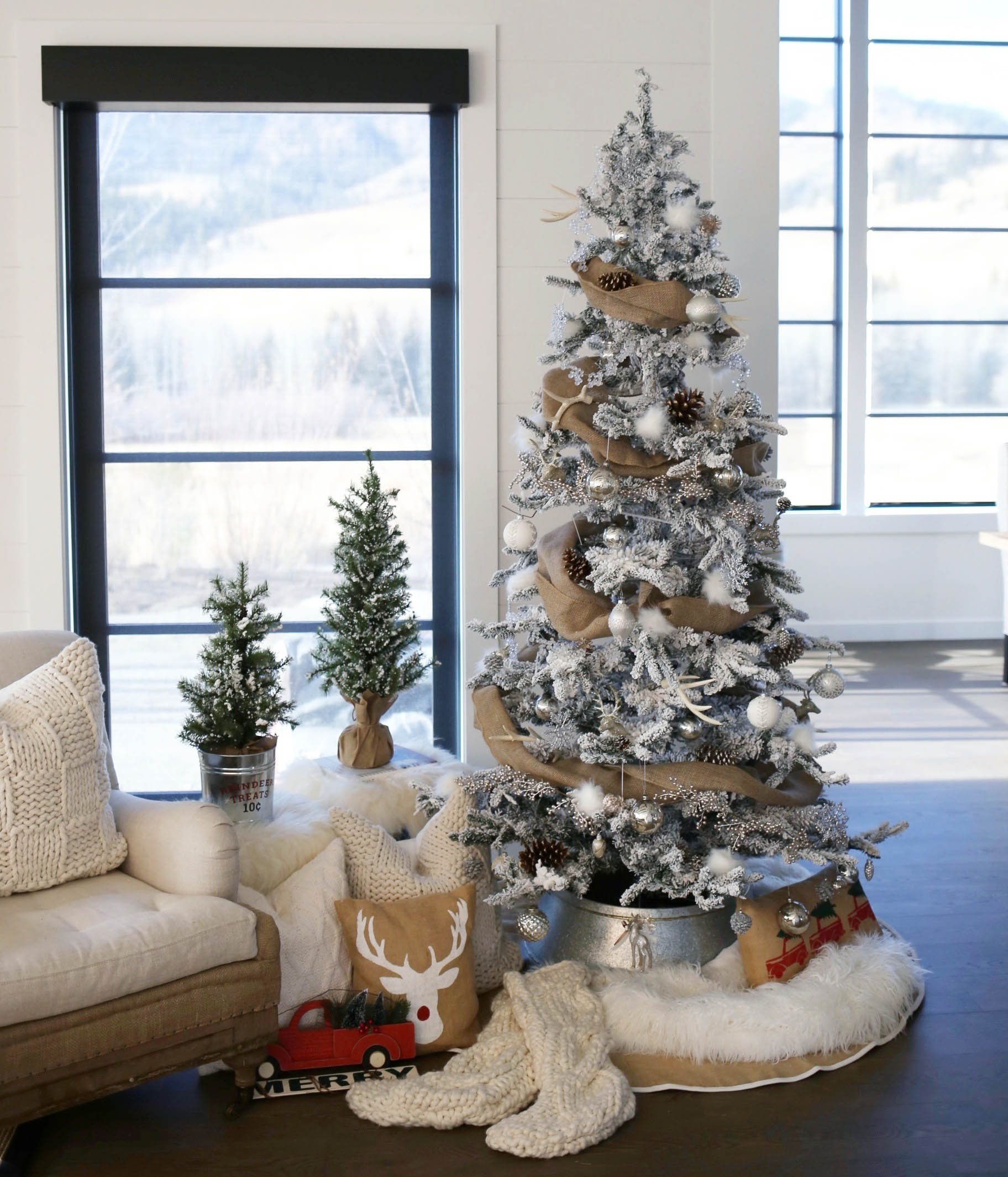 Farmhouse Tree Details
Ho, ho, ho, babes!! It's beginning to look a lot like Christmas around my house. Who's ready to decorate for the holidays? I usually start the week of Thanksgiving but since I wanted to show y'all my farmhouse Christmas tree this week, I got a head start. 😉
I've paired this post with an IGTV video explaining how I styled the tree and a closer look at this beauty. Head over to my Instagram to check it out!
When putting together any tree, there are TWO main foundational items that set the style: tree holder and skirt. To achieve the farmhouse look, I went with a burlap tree skirt and galvanized tub – option 1 & option 2 . Both are classic country options. Next up, I added in a cozy element, per usual, with a faux fur throw.
Now that the base was set, I put my pre-lit white faux tree in place. I purchased this 7.5″ beauty last year as I wanted to try out a new look. Here's a link to a similar option ($393) or see below for a bunch more. Don't worry y'all, I'm still about the REAL deal, and plan on getting a spruce. Luke and I may even get a permit and go chop one down ourselves… stay tuned!
Let's get to decorating! Before getting into it, make sure you have a theme selected. This will help you stay focused when picking out decorations. For example, I used 4 different decor items to style out my tree: burlap ribbon, berry garland, neutral picks and various metallic ornaments. All of these goodies are in-line with the farmhouse country Christmas theme. Keep it simple and remember, don't overwhelm your tree with too many items. I think it's important to still SEE some of the branches.
Below are links to all of my decor and numerous faux tree options. Leave a comment if you have a question. I will be posting more of my modern farmhouse Christmas decor in the coming weeks – stay tuned!
Happy decorating!!
---
Shop My Tree Decor
Burlap Ribbon  ||  Berry Garland  ||  Picks – Antlers & Poms  ||  Metallic Ornaments
---
Shop My Tree Base
Burlap Tree Skirt || Faux Fur Throw || Galvanized Tub
---
Shop Faux Trees

---
Shop My Favorite Ornaments

---
Shop Other Farmhouse Christmas Decor

---